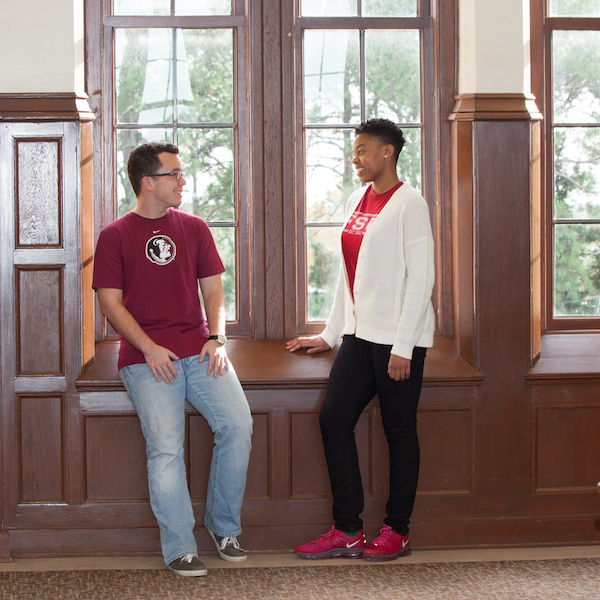 If you are in all remote/online classes for Summer C 2021 and living beyond the Tallahassee community, we are inviting you to join Florida State Anywhere! How you make the most of the experience is up to you.
There are several programs designed to connect first-year and new transfer students to each other at FSU, and we are offering options in Summer C 2021 designed for students away from campus. Most options will connect you with an upper-division student mentor or guide to help you navigate FSU. We encourage you to join in at least one of these experiences in the spring semester. Choose the one that is best for you.
Additionally, during the semester you will have access to:
Virtual help sessions where staff will be on hand to connect you with people and services to help you navigate FSU from afar

A site where you can access up-to-date information about academic support services available remotely (and more!)

Reminders about important campus deadlines

Live assistance with spring course registration
If you are a new student on the Panama City, FL campus, remote options are available to connect with other students and campus services. Look for communications from staff on campus, and check out the resources for Panama City, FL students on this website.
Let Us Know Your Summer 2021 Semester Plans
To join Florida State Anywhere, let us know your plans for the Summer C 2021 semester. If you are in all remote/online courses, we need some additional information about where you plan to live during the semester.
Please let us know your plans for the fall semester by June 16 by completing this short survey (opens March 22): https://fla.st/7HCY6HH0
Please wait to opt into Florida State Anywhere until you have completed Orientation and course registration is possible.
By letting us know your plans by June 16, you'll be guaranteed a spot in Florida State Anywhere. We will reach out to assist you in choosing the experience that is right for you. We want to make sure you have joined well before fall classes start to save your spot!
See the Florida State Anywhere Experiences section of this site to see the experiences available for the semester.

Experiences offered in Summer C 2021 are designed for new first-year and transfer students.
Please let us know your plans as soon as possible to ensure that we can help you make any needed adjustments in your course schedule.
Get More Information
Questions about Florida State Anywhere? Contact the Division of Undergraduate Studies at deanofundergraduates@admin.fsu.edu.
title-inside title-centered
2