Schedule Assistant is an application within Schedule Planner that students may use to search, select and enroll in their classes. Within Schedule Assistant you are able to:
Add courses that you want to take for the semester.
Add breaks into your schedule for work or extra-curricular activities to avoid time conflicts with your classes.
Generate all possible schedule combinations based on your class selections, allowing you to evaluate which one will work best for you.
Schedule travel time between classes. Perhaps you'd like 30 minutes commute-time between classes. You can schedule that through Schedule Assistant's Class Padding feature.
"Lock" a class such that it is always on your schedule and other classes are scheduled around, given what's offered during the semester in question.
After you have selected your preferred schedule, you may add it to your Shopping Cart and proceed with registration.
Below are some introductory videos and answers to some frequently asked questions about Schedule Assistant.
FRESHMAN INTRODUCTION
INTRODUCTION
Tips for Getting Started
Selecting the correct criteria will ensure that you are searching for courses that are offered on your campus and are in the correct term/session. The Course Status filter should remain set at Open Classes Only.

After your filters have been selected, you may begin to search for courses by clicking the Add Courses button.
Certain class sections are sometimes reserved for students who are in a special program (e.g. Honors, Living Learning Communities, etc). It is important to review your class sections to identify and remove any that are reserved for programs you are not participating in.
After you have added your courses, first click the Sections button to the right of the course.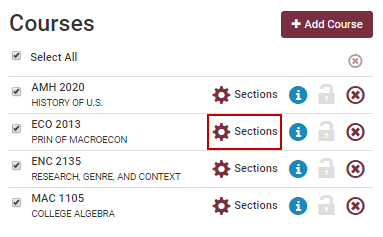 The Sections view will let you see information on the different sections of the course including day/time, instructor, and physical location. Check for any sections that have the notation Reserve Caps beneath the class information. These sections are reserved for special programs, and only those students who are participants in these programs will be able to register for them.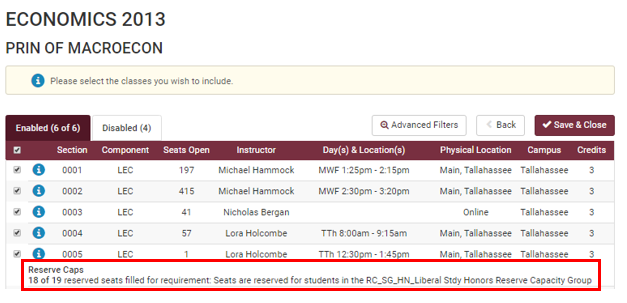 You may also click the blue information icon to expand and view additional class details for that section.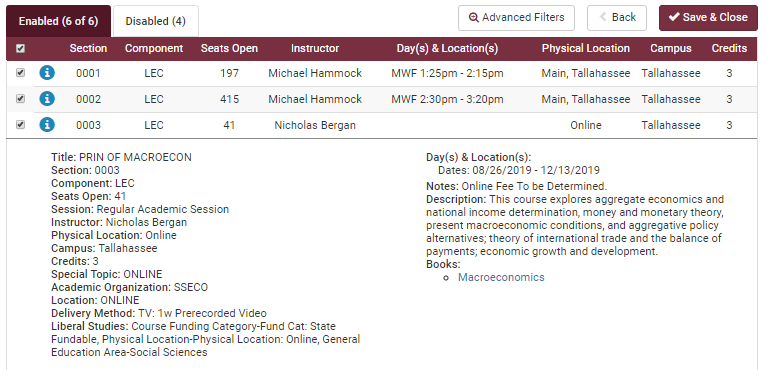 As you review your classes, uncheck the box to the left of any section that is reserved for a special program that you are not participating in. You may also unselect any specific sections that you would prefer not to take.

When you are finished removing any reserved sections, click Save & Close to return to the main page. Click Generate Schedules to review your possible schedules. Any sections you unselected will be removed from your schedule options.
Schedule Assistant FAQ
How do I access Schedule Assistant?
You may access Schedule Assistant in the My Classes section of Student Central. Click the link in the navigation collection for Schedule Assistant.
Does Schedule Assistant replace the way students used to register in Student Central?
No, you may register through Schedule Assistant or through Student Central. However, it is recommended that students register using Schedule Assistant to make use of the schedule optimization features that are available there.
How do I search for a class in Schedule Assistant?
To search for an individual class, click the red Add Course button to open the following menu: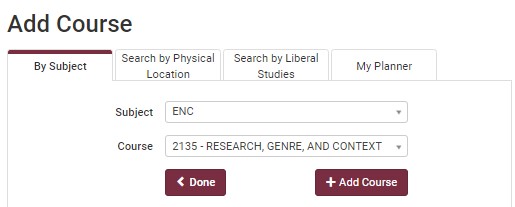 Search using the By Subject tab if you want to search for classes by course subject and number.  If you are searching for classes that meet certain requirement(s) for Liberal Studies, it is recommended that you use the Search by Liberal Studies tab. You may use Search by Physical Location tab if you are trying to find classes offered at a specific location, such as online courses. When you have found the class you want, click the Add Course button and Done to return to the main page and continue with registration.
If a course does not appear when I search in Add Courses, does that mean the course is not available?
Yes, if the course does not appear when you perform the search in Add Courses, then either all sections of the class are full (the Course Status filter should be set to Open Classes Only) or the course is not being offered in that term.
Where can I find a list of the classes offered for a specific Liberal Studies area?
To search for courses by Liberal Studies area, click the Add Courses button and then select the Search by Liberal Studies tab. Use dropdown fields for Attribute and Value to select the Liberal Studies area(s) you for which want to find courses.
If you know the subject area for the course you want to take, enter that value in the Subject field and then use the Course field to see the list courses available.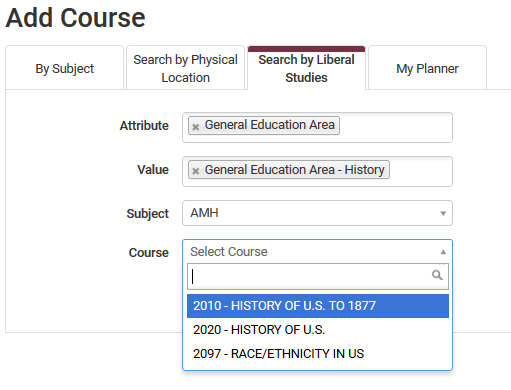 Alternately, you may leave the Subject blank and select the Course field to view a list of all courses offered in each subject. Select the course you decide to take from the list available and click Add Course.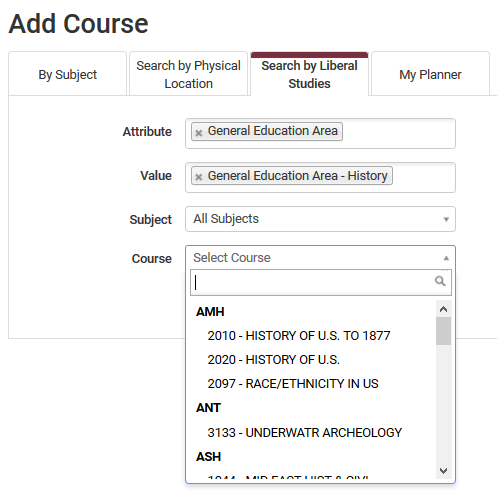 Where can I see a list of all of the course Subjects and what they mean?
An alphabetical listing of the course subjects and their definitions is available in the Undergraduate General Bulletin. This list also includes the departments/programs that offer courses in that subject.
How do I add courses to the Shopping Cart?
Click the Generate Schedules button under the Schedules area. This will let you view all of the possible schedule combinations for all of the courses you have searched for. Click the View link to the left of each option to review and identify the combination that works best for you.

When you have identified the schedule combination you want to take, click the Send to Shopping Cart button.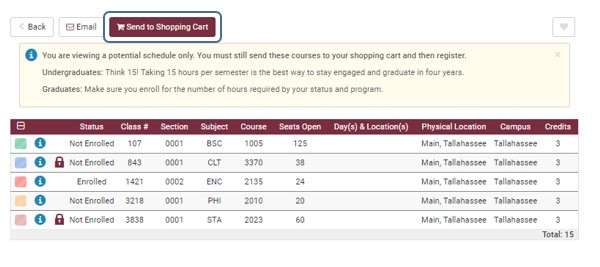 Can I complete the registration for my classes in Schedule Assistant?
Yes, you may search for classes, add them to your Shopping Cart, and then register all within Schedule Assistant. Once you have added the classes to your Shopping Cart, just click the Register button in the top right corner to confirm your registration. Your final class schedule will then be imported into Student Central automatically.
How do I register for a Freshman Interest Group (FIG) in Schedule Assistant?
For incoming freshmen, a Freshman Interest Groups tab will be available to you under the Add Courses function. From this tab you can scroll through the list of FIG offerings from the drop down menu, add the FIG you want to take, and proceed to register.
Note: you cannot add a FIG through the By Subject tab as it will not include all the courses in the FIG cluster. You must select the FIG from the Freshman Interest Group tab for it to include all the courses.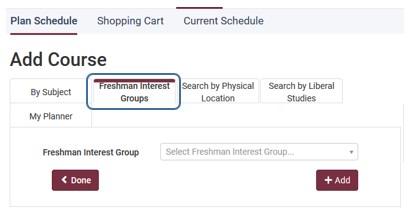 Note that when you add the FIG, only the FIG description and HUM1920 colloquium will appear in the Courses area. To see the section information for all of the courses in the FIG, click the Sections button.
On the Sections screen you will see the section information for the courses in the FIG and can view additional details on each one by clicking the blue information icon. All sections will appear in your schedule options when you click the Generate Schedules button.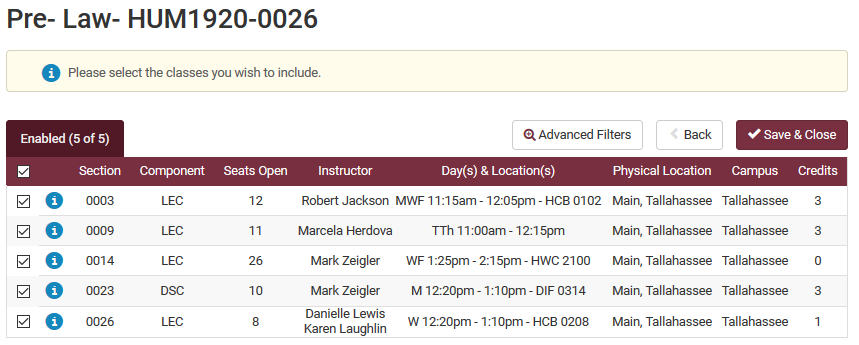 How can I see if the class I want is restricted to majors only or reserved for certain populations of students?
Class sections that are reserved will appear with the notation Reserve Caps beneath the class information. The notation will have information on the number of seats reserved and which program they are reserved for.
Check with your advisor if you need clarification on the reserve cap information you see for a particular class.
What other information can I see about the class in the Class Details?
Class Details is where you may also find additional pieces information about a class section, including:
required prerequisites;
meeting times and locations;
academic session;
physical location (Tallahassee main campus, online, etc);
instructor name;
number of credit hours;
and more!
How do I add a break into my schedule?
Just click the Add Break button to block off time in your schedule for work, athletics or any other extracurricular activities. Enter the days and times for which you do not want your classes to meet. When you use Generate Schedules to view your schedule combinations, Schedule Assistant will avoid any class sections that conflict with the breaks you entered.
How do I make sure I have enough time between classes?
Just click the Advanced Options button to access the Class Padding drop-down box. Select from a list of five-minute intervals between 0 and 90. Do you need half an hour between classes? Select 30 minutes. (Remember, however, that most classes observe standard meeting times and already allow for 15 minutes between classes. If you add more class padding to your schedule, you might have to alter that choice if Schedule Assistant doesn't generate class schedules that work for you.)
What does "locking" a class do?
If you want to ensure that a particular section of a particular class remains on every schedule that Schedule Assistant generates, you click the Lock icon next to that class. However, remember that even if you lock a class, you still must import the schedule you select to your shopping cart to complete the enrollment process!
I was not able to enroll in a class section because it was reserved or full. How do I find another section of the class?
First, you will need to remove the section you tried to enroll in from your Shopping Cart. In the Shopping Cart tab, click the button Edit Cart.

Find the course and check the box Remove from Cart. Click Save and return to the Plan Schedule page.

In the Courses area, check only the course you were not able to enroll in. Any other courses that are already in your Current Schedule or your Shopping Cart must be unchecked or you will receive an error message when you try to generate schedules.
Select the Sections button for the course you need to add to review the available sections. Click the blue information icon to see if any sections have a reserved capacity and may not be available to you. Unselect those from the list so they do not appear in your schedule options. Save and Close.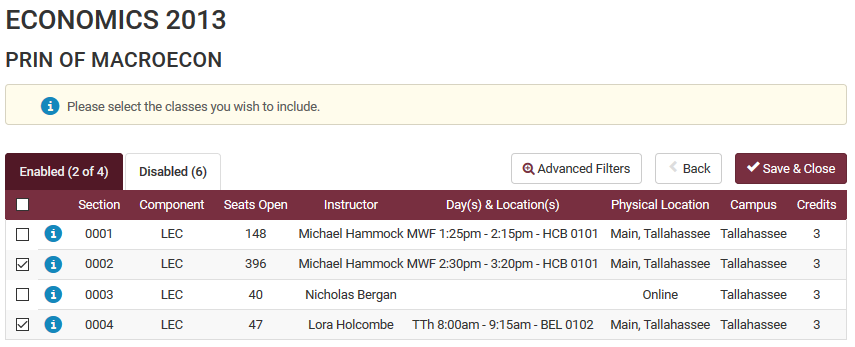 Click Generate Schedules to review your schedule options. The schedule optimization feature will automatically find schedule combinations that will work with all the courses that are already on your Current Schedule or in your Shopping Cart. Review your schedule options to identify the one you want and proceed with adding it to the shopping cart and registering.
What if I need to drop a class after registering for it?
To drop a class, go to the Current Schedule tab and click the button for Edit or Drop Classes. On the next page, under the Actions column on the right check the box of the classes you wish to drop and click Save.
NOTE: You may only drop classes in Schedule Assistant while registration remains open and before the end of drop/add (midnight on the fourth day of classes). After drop/add has ended you may only request course drops with Student Central. Instructions on course drops in Student Central are available here.
How do I drop a freshman-level English Composition or Math class?
Per University policy, students may not drop English Composition (ENC1101 and ENC2135), lower-level Math classes (MGF1106, MGF1107, MAC1105, and MAC1140), or any required preparatory classes without the permission of their academic dean. For most freshmen/sophomore students, your Dean's Office is:
Office of Undergraduate Studies
UCA 3400
(850) 644-2451
How can I swap from one section into another section of the same class?
Within Schedule Assistant, swapping a class may only be done as two separate transactions. First, drop the section you are already enrolled in and then add the new section you want to be enrolled in. NOTE: Remember that you may not drop English Composition, lower-level Math or preparatory courses on your own. If you are swapping sections of an English or Math class, use the alternative process below or contact Undergraduate Studies for assistance: (850) 644-2451. As an alternative, you may perform a section swap within Student Central. From your Student Central student homepage, navigate to the My Classes tile and click the link for Enrollment: Swap Classes. Instructions on how to perform the swap in Student Central are available here.
title-inside title-centered
2