Academic Information
Campus Life
Career
Information Technology
Money Matters
Student Services
myFSU Portal
By logging into myFSU, you will have access to the following—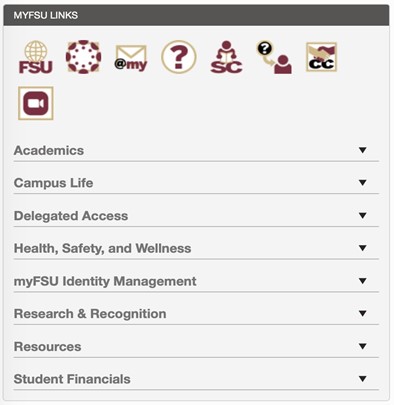 Canvas: Selecting the icon will bring you to your Canvas dashboard where you will see your current courses, course communications, assignments, discussions, and assessments.

Email: Your @fsu.edu email address is the official way the university will communicate with you. Check your FSU email daily for important information from your instructors, advisers, and other university offices.

Campus Connect: Students use Campus Connect to schedule advising or tutoring appointments as well as access reports or notes from advising meetings. Once in the platform, advising and tutoring appointments can be scheduled by clicking the blue "Schedule Advising or Tutoring" button at the top right side of the home screen.


Student Central: Student Central provides more detailed access to your information and the places where you need to conduct your business as an FSU student. Selecting this SC icon will take you to your Student Homepage:
· My Academics includes: Summary where you can view GPAs, Map Status, Earned Hours, and Excess Credit information; Academic Records where you can view your grades, access your unofficial transcript, request an official transcript, and request verification of your enrollment; Advising Tools where you can view your Academic Requirements Report and search for adviser contact information; and Graduation where you will apply for graduation.
· My Classes includes: Enrollment Dates and Undergraduate Degree Progress, search for classes to meet requirements, register for classes, and conduct drop/add.
· My How-To Videos includes a series of short videos on how to do various activities within the student data system.
A3900 University Center
Florida State University
Tallahassee, FL 32306-2480
Contact
registrar@admin.fsu.edu
850.644.1050
Fax: 850.644.7134
A1500 University Center
Florida State University
Tallahassee, FL 32306-2394
Contact
studentbusiness@fsu.edu
850.644.9452
Fax: 850.644.5142
A4400 University Center
Florida State University
Tallahassee, FL 32306-2430
Contact
financialaid@fsu.edu
850.644.0539
Fax: 850.644.6404
Florida State University
109 Askew Student Life Building
Tallahassee, FL 32306-4174
Contact
housing@fsu.edu
850.644.2860
Fax: 850.644.7997
A3400 University Center
Florida State University
Tallahassee, FL 32306-2460
Contact
undergradstudies@fsu.edu
850.644.2451
Fax: 850.644.6723
A4100 University Center
Florida State University
Tallahassee, FL 32306-2440
Contact
dsst@fsu.edu
850.644.2428
Fax: 850.644.0687
title-inside title-centered
2